Paul Goble: Capturing the Beauty of Native American Culture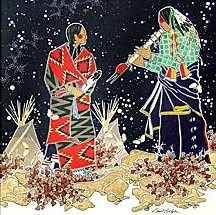 Love Flute illustration by Paul Goble
From the romantic tale of the first love flute to the mythological creation story, the work of Paul Goble brings these Native American myths and legends to life in vivid color and exquisite detail.
His enchanting illustrations and delightful retelling of these ancient narratives are renowned for their accurate depictions and ability to beautifully reflect the interrelationship of all living beings.
"I have always had strong feelings of kinship with Indian people of the Great Plains and have seen and learned many wonderful things from them. My goal is simple: I want to express and share my experiences with others and encourage Indian children to be proud of their culture."
It all began with childhood curiosity
This English born author and artist says his fascination with the Plains Indians began at a young age and attributes much of his intrigue with their spirituality and culture to the bedtime stories his mother once read to him - tales of the early environmentalist Grey Owl, wildlife author and artist Ernest Thompson Seton, and the Oglala holy man Black Elk.
"From early childhood, I always wanted to know more about the Native culture…to see and experience the country and wildlife with which the lives and beliefs of these people were so closely interwoven."
Journey to Indian Country
As a young man, Paul first visited the United States in 1959 and later returned to spend many summers with the Plains Indian tribes of the West. In 1977, he and his wife Janet eagerly moved their permanent residence to the Black Hills of South Dakota from their home in England.
Throughout his life long love affair with the Native American culture, Paul has made lasting friendships with tribal elders and holds a deep understanding of and appreciation for this amazing culture - he has been adopted by both the Lakota and Yakima Indian tribes.
A Lakota elder once said of him…
"I have always thought the wanagi (spirits) are close to you. Some of your illustrations reveal that the ancestors come to visit you in your dreams."
Accomplishments
This teller of Native American stories has written and illustrated more than 29 books about traditional aspects of Indian life on the Great Plains. Paul's watercolor illustrations have received many awards and has been widely exhibited - the books have been translated into 10 languages and the South Dakota Art Museum houses his permanent collection of paintings.
Today, Paul and his wife continue to reside happily in the Black Hills.